How to Use Digital Signage to Boost Employee Motivation and Engagement

Cathy Peyton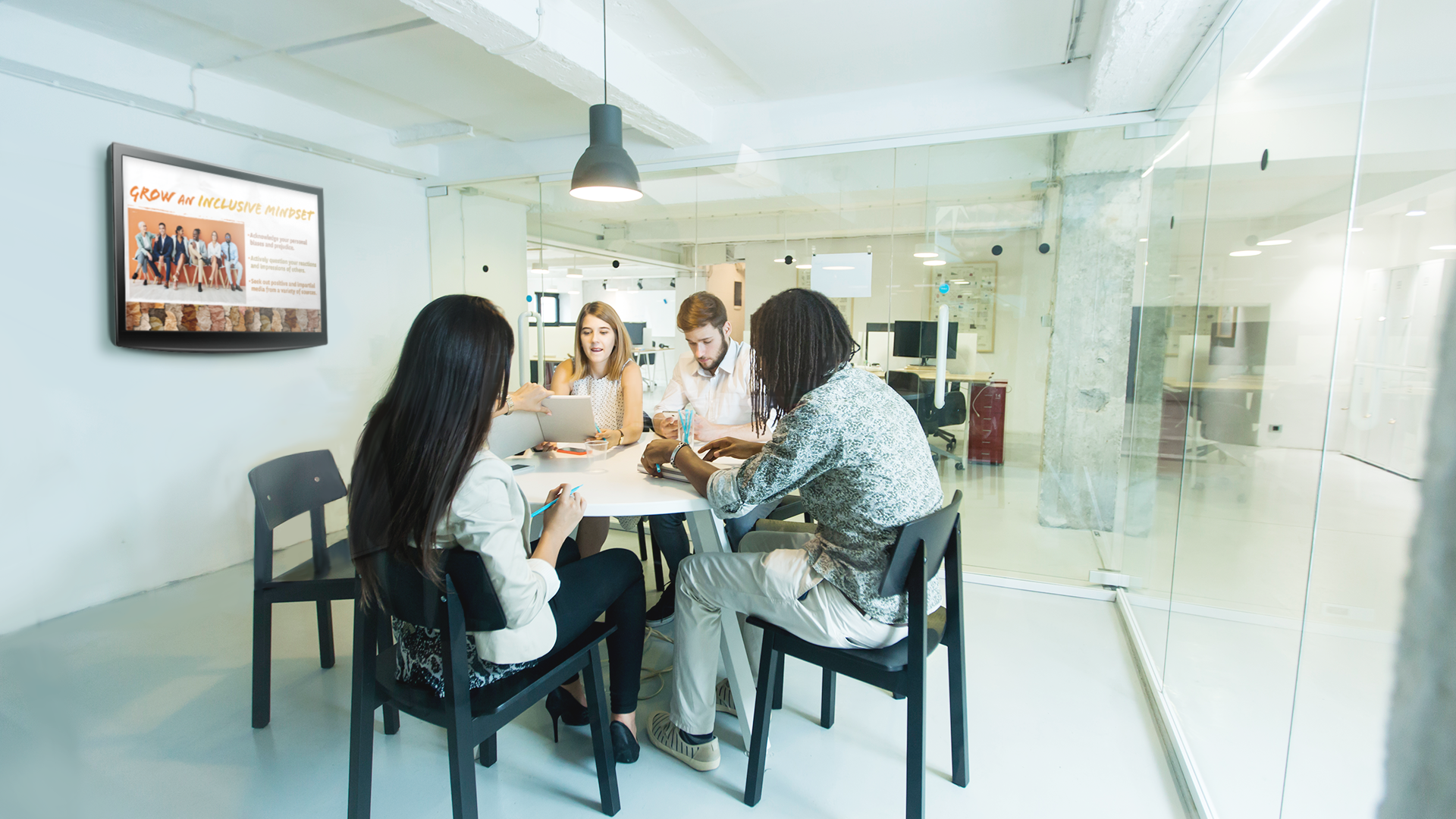 When employees are engaged, they feel a connection to their employer's business. They are more motivated, more productive, and produce higher quality work. Unfortunately, according to Gallup, the engagement rate has been dropping over the past few years, and only 32% of employees were found to be engaged in 2022. The benefits a company receives from an engaged workforce are significant, and many employers are focusing on improving it to elevate their company's competitive edge and grow the business.

One tool that they have started utilizing is digital signage. With its many features and advantages, employers realize how effective it is in improving the company's internal communication, workplace environment, and employee retention.
Communicating the Company's Vision and Goals
Before employees can care about the company, they need to understand how their work contributes on a global level. Using digital signage to display and explain the company's vision, mission, and strategic goals gives employees the opportunity to see how their efforts contribute to the company's success. It gives them a sense of purpose beyond writing reports or moving inventory.

The beauty of digital signage is that it isn't a static display of information. With it, it's possible to focus on different aspects of the message with text, imagery, and videos that make the information come alive. You can utilize and customize professionally designed workplace templates to help you create engaging content to display goal information, important company news, upcoming events, and new initiatives.
Creating a Positive and Inclusive Work Environment
In a busy workday, it's easy to forget about providing positive motivation to employees. Digital signage in the workplace can counteract that situation and provide excellent ways to foster a positive work culture. Accessible design principles and multilingual content options are easy to incorporate into digital signage, making inclusion a key attribute of company communications.

Digital screens are a perfect avenue to display a series of motivational quotes, messages, and affirmations. With positive messages surrounding them, employees feel valued and receive the encouragement they need when they need it. In addition, before employees can feel engaged, they need to feel included as part of the team. Diversity is also important, but unless those representing different attributes such as gender, race, nationality, and sexual orientation feel valued, diversity is just a set of policies and procedures.

Using digital signage is an effective way of educating the workforce on the issues of inclusion, diversity, and cultural awareness. Research shows the impact of diversity and inclusion, and when employees believe that they are being treated equitably, they are 9.8 times more likely to enjoy going to work and 6.3 times more likely to feel pride in the work they perform.
Improving Retention with Employee Recognition
Every company feels the stress of finding the talent they need. The competition is fierce, and focusing on things that will help retain employees is a key success factor in today's workplace. Employee recognition is one of those things.

Digital signage is very effective in showcasing employee achievements and milestones. It helps employees keep track of how successful they are in achieving their individual and team goals through visually appealing designs and content flashed on their screens. It's also possible to integrate business applications with a digital signage system. This provides the opportunity to display real-time targets and performance metrics to recognize employees for their efforts.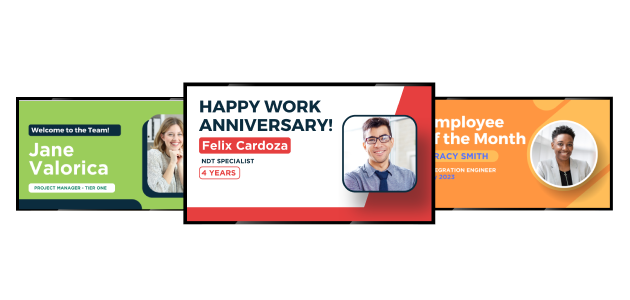 You can also use digital displays to highlight career opportunities, benefits, and perks in the workplace. Posting congratulatory messages for birthdays and anniversaries on digital screens is another way to foster a feeling of belongingness and being seen by management.
Nurturing Wellness and Work-Life Balance
If COVID taught management anything, it is that today's employees put a big premium on maintaining work-life balance, which leads to improved wellness. You can show recognition of that fact and your concern for employees by taking an active role in promoting better living.

As part of the communication process, digital signage can display information about health and wellness programs. You can present workplace safety tips through visually engaging signs to remind your employees about health protocols. You can also provide additional resources and tools that support work-life balance and show your commitment to their safety.
Take Advantage of Digital Signage to Motivate and Engage Employees
Today's workplace environment makes it even more important to boost employee motivation and engagement. Establishing a culture that is inclusive and positive will also help attract and retain the employees that help your company grow.

With digital signage, you now have the perfect solution to communicate well with your team, recognize their efforts, and promote wellness and work-life balance. When you take advantage of the power digital signage offers, you can elevate your workplace like never before.

Let our team at Indigo help you achieve that goal. Request a demo today and start creating content that motivates and engages your employees!