4 Things to Consider Before Presenting Your Case for Digital Signage

Cathy Peyton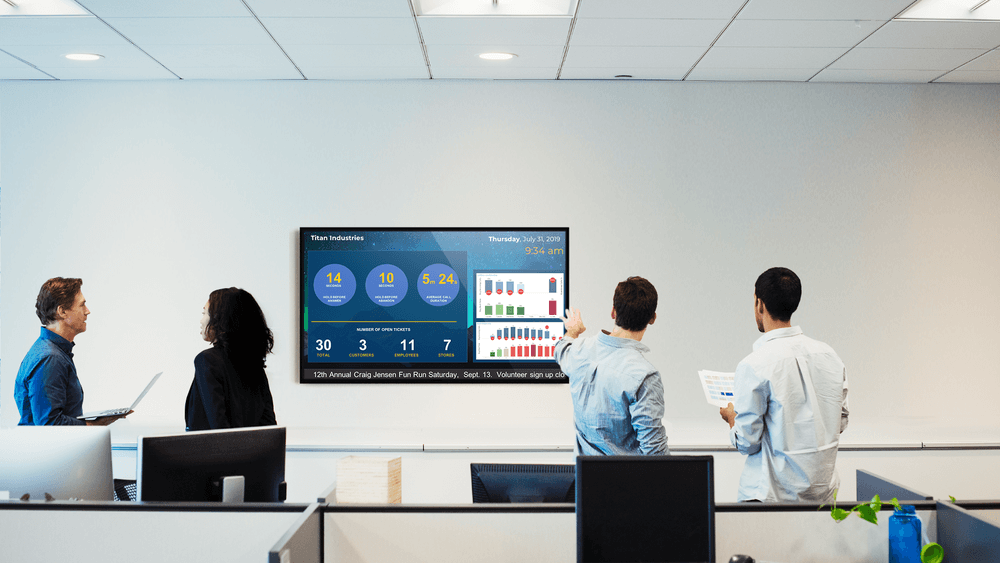 Streamlining your internal communication platforms will certainly increase efficiencies and effectiveness, but you'll still have to make the case up the management chain and provide proof of concept that any recommended actions will benefit your organization.
At Indigo, we know that incorporating digital signage into your internal communication strategy is proven to capture more attention, increase employee morale, improve speed and accuracy with your messaging, and decrease work hours spent managing your communication tools. If you recognize the value of adding cloud-based digital signage but aren't quite sure how to demonstrate a convincing business use case, consider the following four points.
1) Digital signage increases your reach.
The onset of the COVID-19 pandemic has shown us just how important it is to be ready with remote communication tools at all times. Emails and chat channels are nice, but multiple messages coming from multiple departments can quickly flood inboxes and bury critical information in threaded messages. Using digital signage software, multiple department heads can contribute to a consistent, cohesive messaging strategy and create a central information resource that keeps all employees on the same page. From employee announcements and company policies down to critical employee townhall meetings from key leadership, digital signage can help you deliver your most important messages consistently throughout your organization.
2) Digital signage fosters inclusion.
Helping employees feel included and well-informed is important to keeping morale high, especially during uncertain times. This is true as well for your IT team. Your IT department has valuable insight into the best ways to implement a digital signage initiative, including network and protocol requirements of your organization. By getting your IT team on board early, you'll have the necessary buy-in needed, as well as any necessary network requirements to ensure a successful launch.
3) Digital communication helps you gain economies of scale.
This valuable concept could be a chapter in Business Management 101, and corporate leaders will expect proof that your concept will result in a definitive ROI for your organization. Fortunately, there are several metrics demonstrating that digital signage delivers value throughout your organization. Consider these statistics:
When delivering training initiatives, employees retain 80% of digital content after a single view, compared to only 20% for printed materials.

Operations displaying real-time production values on digital screens improve productivity by 25%.

Employee engagement is up to 400% greater with digital signage than with printed information.

Employees are 43% more likely to adhere to policies and procedures that are promoted through digital signage than through print or email communication.

Digital signage increases the ROI value of safety and training initiatives by 20%.
4) Digital signage delivers key messages faster.
This has been a defining year for effective, efficient workplace communication. Information is changing at a rapid pace, and organizations can't disseminate that information quickly enough, especially with printed communication. From initial concept and approval to final distribution to your facilities, it can take up to a month to get critical communication printed and displayed for your employees. On the other hand, with digital signage you can deliver that same communication on a much expanded level within minutes.
Today's more accomplished digital signage software provides the benefit of using popular file format, saving you time and the frustration of converting files for display. Additionally, these same providers often offer a suite of free, professionally designed templates readily available for you to take your communication to an entirely new level.
Presenting Your Case for Digital Signage
Now you have a handle on how to present your case for the effectiveness of digital signage. It's time to share your excitement about this communication opportunity during a collaborative discussion with your team. Ask them about their own communication challenges and have them provide their thoughts on how digital signage can directly improve their effectiveness as leaders as well. No doubt, with this level of inclusion, everyone will recognize your suggested changes will have a positive impact, be easy to implement, and ultimately streamline everyone's internal communication efforts.
Still not sure you have the information you need before presenting digital signage to your team? We'd love to visit with you to understand your needs and share even more benefits of this amazing communication tool. Click here to schedule time with us.