With policies and guidelines changing on a weekly basis, it can be challenging for companies to keep up with the best ways to respond to the COVID-19 pandemic. Uncertainty surrounding the pandemic response can cause employees to speculate on potential courses of action, especially in the absence of clear communication from an employer. These speculations often lead to misinformation and frustration throughout the workplace.
If the stress of the pandemic weren't enough, many employers are compounding the strain on their employee relationships by relaxing their efforts in communicating with employees. This may stem from a misplaced notion that employees are tired of hearing about the pandemic or the mistaken belief that employees already know how to handle proper social distancing procedures. But whatever the reason, Gallup polls confirm that employees feel less informed, less prepared, and less cared for than earlier in the pandemic.
Employers can combat these problems and maintain high productivity levels and good employee relationships by sticking to a strong communication plan. Since employees throughout an organization may use different communications channels, utilizing digital signage as the primary communication platform is one of the best ways to ensure that all employees are staying well informed.
Here are five ways you can use digital signage to help in reducing stress in the workplace and keeping your employees healthy and well prepared as changes continue to unfold.
Update safety protocols – As the CDC and OSHA publish new guidelines, your PPE protocols may change frequently. Keep employees updated on new guidelines for hand-washing measures, sanitizing protocol, mandatory face masks, and other safety procedures.
Communicate company policies – Local governments are also likely to issue new mandates as certain geographical areas see spikes or dips in the number of confirmed cases. As a result of these mandates, your organization may need to implement policy changes, such as opening or closing of common areas, employee benefits changes, or building access procedures.
Announce employee work schedules – As local mandates continue to change, companies may need to adapt by altering employee work schedules. Your organization may have alternating shifts, flexible work hours, or mandatory quarantine periods. Frequent schedule changes can be hard to follow, so highly visible schedule information is vital to keep employees on task.
Motivate your return-to-work employees – As employees return to work, many feel anxiety about jeopardizing the health of their families. Positive reinforcement, reminders of safety protocols that are in place, and continued appreciation can go a long way to keeping employees motivated and encouraging a smooth transition back to a more traditional office setting.
Share wellbeing offerings from your benefits package – The mental and emotional health of your employees is critical to a successful pandemic response plan. While insurance and time-off benefits might be highly publicized throughout the organization, mental health resources may not be as well known. Broadcasting available support resources along with useful tips on using those benefits shows employees that your company cares for their wellbeing.
To support you in your mission to care for your workforce, we want to share Indigo's COVID-19 wellbeing resource for you to download and share with your employees.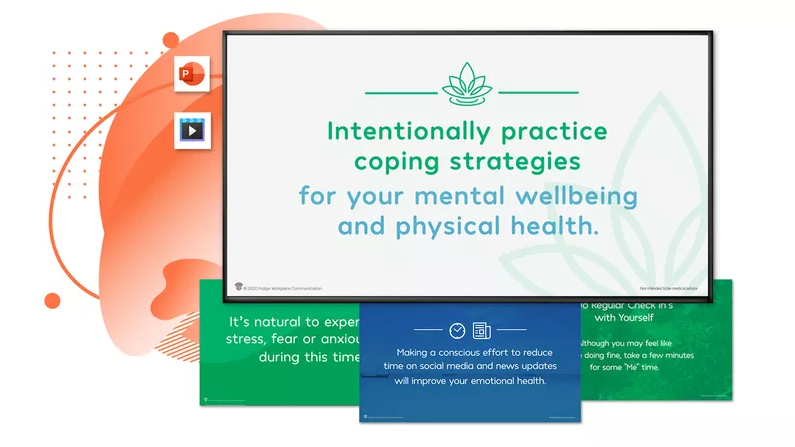 Available as a Video or PowerPoint, our Coping Guide allows you to connect with your employees by acknowledging the anxiety we all are facing now, as well as provide actionable coping strategies to help your employees care for themselves and the ones they love.